Piano Tuner in Inverclyde, Renfrewshire, Glasgow, the west of Scotland and beyond.
I almost weep after every interaction with you because everything you do is done so well and with such care. You don't have a twin who plumbs, or does electric, or roofs, I don't suppose?
J.D. Ormidale House, Argyll
Thank you for the tuning and work you did on my Chappell. I could hear that you were very particular with it and I have to say it is sounding as sweet as I have ever heard it!
....I very much enjoyed hearing you play my piano and am very happy with the work you did - thank you for both!
A.R.H., Bonawe, Argyll

Many thanks for sending the screws for our piano! We have done the repair and all is well! We very much appreciate your kindness and thoroughness.
F & P VK, Lochgoildhead
The best my Bechstein has ever sounded
R.W. Retired Schools Music Inspector
For over 20 years David Boyce has been keeping my pianos in tip-top condition. After expertly extending the life of my beloved elderly Steinway, he now ensures that my Bosendorfer remains a joy to play. Instruments never sound sweeter than after his painstaking attention - and his knowledge of pianos and pianists is comprehensive. Highly recommended!
D.J.W. Murray B Mus FTCL, music teacher and performer
It was a pleasure to meet you yesterday and thank you for all the care and time you took with the Steinway. It was much appreciated. I've given it a good work out and it's feeling and sounding really great. Again many thanks.
Mr. S. E., Argyll.
Just a wee message to say thank you for taking such care with my precious piano. It sounds lovely.
Mrs. C. H., Dumbarton.
Just a note to say thanks you for Wednesday! I've enjoyed playing the piano with all the keys working - it's annoying to say the least when a key sticks. I enjoyed seeing you work on the piano - it's so obvious that you have a great interest and awareness of everything to do with a piano.
Mr. I.R., Campbeltown.
The difference between a piano tuner and a piano technician was made clear to us when David 'treated' our piano and cured it of many of its ailments. Complete with a whole raft of tools he spent considerable time coaxing our Bechstein back to life and certainly reached parts no-one else had reached in his pursuit of excellence. Fastidious to a fault, David certainly knows what he is doing!
Mrs S. Leitch, Giffnock
As a conservatoire piano student and performing pianist/accompanist, I have been using the services of Mr David Boyce for over two years now. Throughout this time David, in his friendly and polite manner, has been an incredible help in ensuring that both my upright and grand stay in good tuning and regulation all year round. As I also teach many students in my home, my pianos certainly take quite a bashing from heavy-handed learners and so tuning becomes quite a frequent expense for me. As I am easily distracted by strange pedal noise or an odd-sounding note whilst playing, David always insists upon correcting these issues either on the day or the very next day, something which other tuners would not do (nor indeed know much about). With David's continuous help and generosity of time and wisdom, these frequent tunings are an absolute joy each and every time and I would thoroughly recommend the services of David every time.
Liam Lees, Carfin. Music teacher & Performer.


Thanks so much for tuning the piano yesterday. It sounds great!
S.C., Fort WIlliam
David Boyce has been tuning our small grand piano for more than 20 years. It gets fairly regular use, and continues to give us full satisfaction, in spite of its increasing age. We attribute this to his careful maintenance.
A & E Shearer, Greenock
Thanks for all the interesting information on our piano - it's most kind of you. We thoroughly enjoyed your visit and were so grateful for all the time and expertise that you gave the piano - thank you so much. We were very impressed with your quality of work and high degree of care.
Graham & Mary Bishop Hunt, music teachers, Barra
Hi David
I just wanted to send you a quick email to thank you for the excellent service you provided recently when you tuned our piano. Your manner, efficiency, price, reliability and attention to detail are a credit to you, so many thanks again, and i will be sure to pass your details to anyone who needs a piano tuned.
Many thanks.
M.J., Glasgow
Just a brief note to thank you again for the tuning. The changing of the action has really transformed what I can play on it now - it was previously the case that there were some quiet (and slow) passages in various pieces that just couldn't be played properly, as the note wouldn't sound unless you played it loudly - so, it's a really brilliant change. I wish it had been done years ago, as it opens up so many possibilities.
Dr. D.C., Renfrew
Excellent job thankyou, really sounds great.
F.W. Spean Bridge Hotel
Just a quick note to say thanks for all your time and effort in tuning my two pianos yesterday. Both my sons were delighted with the sound of them both and impressed with the repairs you did. We are all very pleased.
Many thanks for your sterling work today. I learned a great deal about my piano in the time you were here. And now it sounds wonderful.
G.N., Glasgow
Many thanks for your work on our piano, it sounds terrific! We're nearly having to organise a timetable to get access to it. The sound is wonderful and it is truly a joy to play.

Again many thanks and best wishes.
K & S B, Paisley (after repair to bass bridge)
I got to play the Bechstein this morning. What a change! She sounds and plays beautifully. The action is so smooth and predictable. A delight to play. Many thanks. You have done a great job. I am delighted.
Dr. C., Inverclyde
I was delighted to be able to have the piano tuned, and want to thank you for your patience and skill. It's much more pleasurable now to sit at the piano, and it's helped me improve my playing, supporting what I learn and practise from my weekly lessons. I was surprised that you came all the way out to Barra, and am grateful for your fair and honest appraisal of my old piano and your care of it, including hoovering out the dust! As far as I am concerned, the piano is part of the island's heritage, having come from the castle. (Next time you come you might look for the two missing chessmen from the board on top of the piano. . .!).
Mrs J. C., Barra
Thank you so much for the wonderful work you carried out on the piano.
Mr & Mrs A., Rigside, Lanarkshire
I would just like to thank you for the excellent job you did on our piano.

My daughter found it fascinating watching you and she is now much happier playing.

Considering the time you spent the invoice was very reasonable and i have already recommended you to a couple of friends who need their pianos tuned.

Thanks again

John
Mr J.B., Balmore
Just to say, absolutely delighted with the piano - I have had a wee play and it's simply wonderful.....
Thank you so much for your knowledge, Time and effort. Very much appreciated. Our daughter came straight in and onto the piano and has been playing ever since. Take care and we will see you at the next tuning.
Mr & Mrs O., Moodiesburn
Hi David, Just wanted to say how much I am enjoying playing the piano - after the attention it received! I though your service was fantastic. Do hope you enjoyed your experience at the marina. Regards,
L.R., Portavadie
Highly experienced, reliable, meticulous and realistic. David's excellent reputation goes before him!

M. I., music teacher, Glasgow

Thanks for travelling out here to tune my piano. It sounds wonderful.
Mr. John C., Glasgow
Just to say thank you again. Very happy young lady played away on the piano for a few hours as soon as she got home yesterday. Biggest smile all night and a pleasure to listen too.
I'll make sure I don't lose your card this time. Great service as ever.
Best regards,
R.H., Greenock
Hello David, thanks for the report, tuning & pictures. Job well done..........
Thanks again for your excellent service.
Cheers,
A.N., Kilchrenan
Hi David.
You did a fantastic job tuning my daughter's piano last year and I was hoping you could set it up again!
D. O'N., Stepps
Thank you very much indeed for tuning my piano last weekend. I meant to be in touch sooner to relay the message that the piano sounds wonderful and I am very grateful indeed.
I will keep your card for future tunings, usually every 4-6 months.
With best regards,
Mr A. B., Glasgow
Thanks again David for coming over again today to rectify the issues with my piano. It sounds beautiful now. You are a master!
Ms. G. T. Innellan
Thank you so much for the piano repairs; you have made my piano playing so much more pleasurable. With our best wishes.
E & J S., Fairlie.
Thanks again for yout time and attention. The piano sounds amazing!
Mr. D. T., Drymen
Dear Teacher, I would like to thank you for your good treatment and efforts that you did in our class. Really you are one of the best teachers that I have studied with. Finally, I want to apologise for not coming to you to say goodbye. I wish you all the best in your life.
Y. Alsharif, Aflaj, Saudi Arabia
I happened upon your piano repair page and decided to follow it, as I often think back to the HNC class and how much I enjoyed it. I don't believe that I ever got around to thanking you for your input and help, but it meant a lot to me. ..... I found your classes to be inspirational and motivating".
N.H., Inverclyde
Dear David,
I'd like to express my thanks and appreciation to you for being a super teacher. Yesterday, a group of your students told to me that they were very happy with your brilliant efforts in your way of teaching.
Many thanks for that and I'm sure that not only the students but also we as Student Services Team are thankful for your excellent efforts.
Kindest regards,
Badr
Dr. B. M. ALZannan, AlAflaj, Saudi Arabia
I have fond memories of your particular form of rhetoric in large meetings. Yours was a biting, witty and articulate oasis of rhetoric in a sea of bluster.. It left a lasting impression upon me.
M.H, former lecturing colleague.
Mr Boyce is crabbit.
1st year pupil jotter, Ayr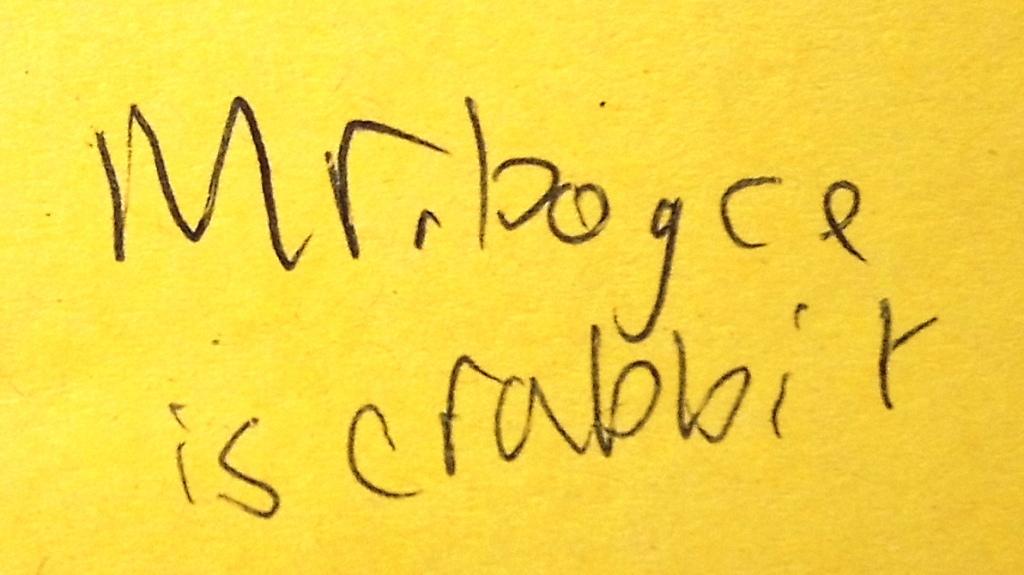 All parts and contents of this website are the intellectual property of David Boyce unless otherwise indicated, and may not be copied without permission.