Piano Tuner in Inverclyde, Renfrewshire, Glasgow, the west of Scotland and beyond.
Schumann Der Contrabandiste (arr Tausig).mp3
Pianoddities
A stroll around some less usual pianos.......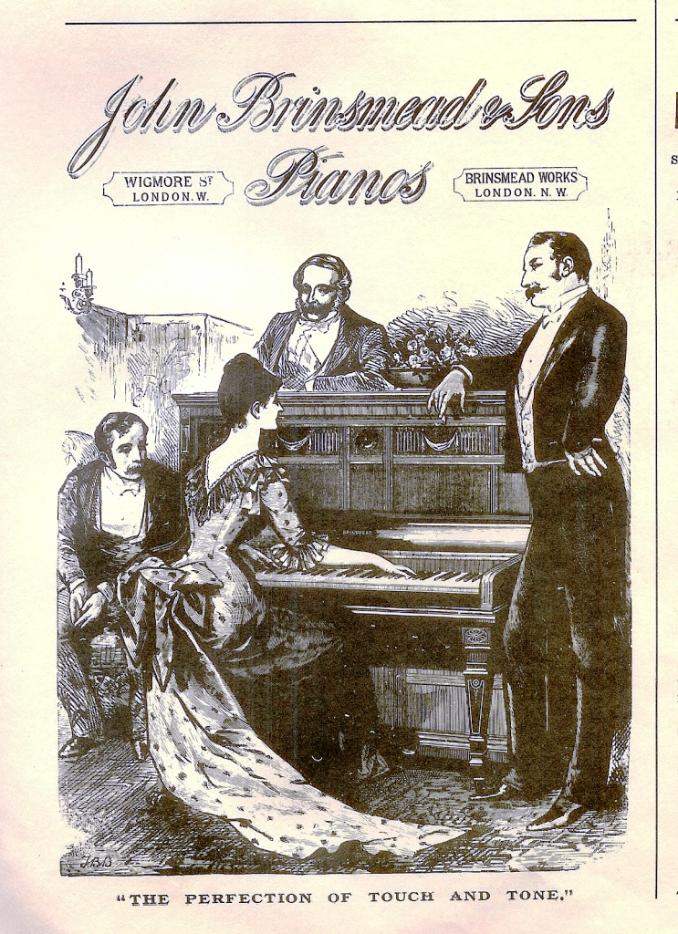 You and your family round the piano of an evening?
Here are some unusual pianos. These are not 'production' pianos manufactured for regular distribution and sale. They are mostly one-offs; fascinating artisan work by individuals. This is a light-hearted but very respectful look at some of them.
There have been many interesting "art case" pianos, but this page isn't about them (though I might make a separate page for them in time). Art case pianos are essentially normal pianos inside, but with fancy casework in various styles.
The pianos featured here are ones which extended the technical resource of the instrument in some way (plus some jokes).
Did you deplore the tendency in the 1960s and 1970s for upright pianos to get ever shorter? Are you glad that the trend now is for taller upright pianos? Perhaps even the tallest of ordinary pianos isn't quite lofty enough for you however? Maybe you want a piano that's twelve feet one inch tall, which you must climb upstairs to a platform to play? You need the Klavins Model 370! See and hear this remarkable instrument on YouTube.

(Photo reproduced by kind permission of David Klavins)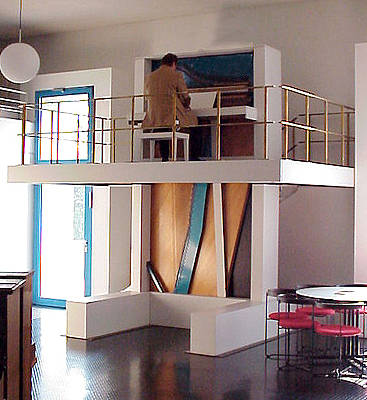 Mr Klavins has now completed an even larger piano, the magnificent Klavins 450i, which is installed in a concert hall in Latvia. Mr David Klavins' website is here.
Is your ballroom just too large for any mainstream grand piano? You need something bigger? English piano manufacturer Challen designed and produced a grand piano eleven foot eight inches long in 1935. Here is a clip of Billy Mayerl playing one of the two that were made (he says twelve feet long). Listening through the limitations of the old recording, it sounds a superb piano:
Here is a catalogue illustration showing this piano, featured at the British Industries Fair1952: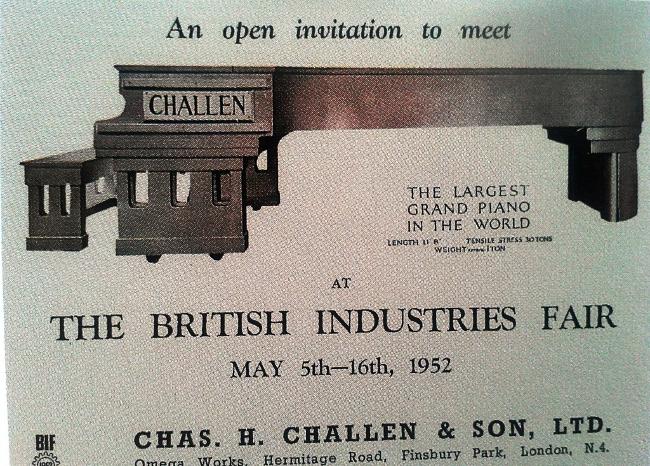 The Challen piano company only made two of these 11'8" giant grand pianos. The one being played by Billy Mayerl in the YouTube video is lost without trace. But the other, the one in the advert above, after a chequered history including periods in private ownership in France, is now safely in the hands of piano rebuilder Mr.
Andrew Giller
where it has undergone complete restoration/rebuild. Here it is on display at
The Old Granary Studio
prior to the start of the restoration. And there is information about the completed restoration project
here
.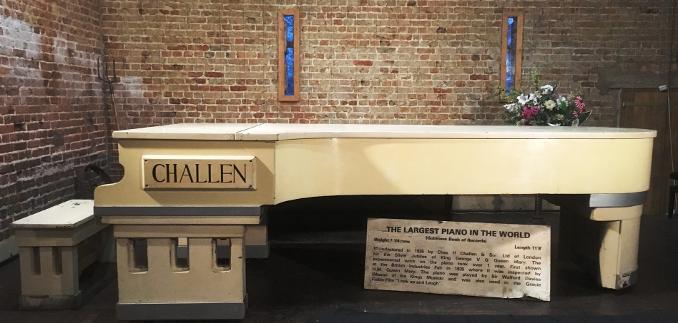 The photo above is the intellectual property of Mr Andrew Giller and is reproduced by his kind permission.
If even the 11'8" Challen isn't quite grand enough for you, you might instead opt for a 12' 2" Model R-371 grand piano made by David Rubenstein, like this:
Further details on Mr. Rubenstein's website
Some very nice renditions showing off the Rubenstein R-371 are now on Youtube, and well worth a listen. Here's some Granados, beautifully played by Yana Reznik:
I like the clear sound of the Rubenstein. Here's another piece, a Rachmaninov Prelude, that shows off the piano (as well as the playing):
If even the Rubenstein isn't long enough, maybe you should consider the impressive grand piano hand-built by a talented young man called Adrian Mann in new Zealand. It's 18 feet 10 inches long:
Even Adrian Mann's piano isn't the longest now! Polish architect Daniel Czapiewski has built a gigantic piano that is 20 feet long. There is not a huge amount of information online about this instrument, but it's somewhat of a hybrid beast, with, it seems, bass strings not longer than a normal concert grand piano, and keys above C8 operating organ pipes. So Adrian Mann's "Alexander" piano remains the longest "pure" piano.
There don't yet appear to be any well-recorded videos available of performances on this piano. Here's some recent YouTube video, but the sound quality isn't marvellous:
But maybe it's not a huge piano you seek - your house has small rooms and you need a smaller piano? This charming little Kawai piano can still sound very musical, in the hands of a pianist with the skills of Hayato Sumino:
Is your concern less with the length of your grand piano than with a feeling that it has too few pedals? How about a Borgato Concert Grand L282 with pedalboard? Learn more about Borgato pianos at http://www.borgato.it/main_uk.htm )

And here's a very lively performance on one of these extraordinary instruments, by extraordinary organist Cameron Carpenter:
Maybe you don't care for more pedals, but you'd like more keys?
You might enjoy an Emanuel Moór Double Keyboard piano. This was invented by Moór in the early twentieth century and a few were built by several different manufacturers, notably Bechstein and Bosendorfer. The single example ever made by Steinway has been restored and is here:
It's not the number of keys that bothers you, but the layout of the keyboard? A Janko keyboard could be the answer! There was even a reversible version with a normal keyboard on one side and a Janko on the other.

Here's a clip of a four-row Janko keyboard in use, with an explanation of its operation:
Interesting though the Janko keyboard is, fine pianists seem to manage well enough with the conventional keyboard. Listen to the same piece, Zez Confrey's Kitten On The Keys played superbly by Alan Feinberg. (This short extract is from a CD called "Fascinatin' Rhythm", one of three by Feinberg on the Argo label (ARGO 444 457-2). Buy it, folks, if you can find it! The ARGO label, owned by DECCA, a subsidiary of Universal Music, has re-surfaced offering online downloads, and hopefully they will add this to the online catalogue). There is a review of this CD here.
05 Kitten on the Keys.mp3
If it's not the keys as such, but the number of tones, that you find inadequate, a Quarter Tone Piano might suit you. In his fascinating, entertaining, and warm-hearted Memoirs, Earl Wild, one of the greatest piano masters of all time, refers to a Quarter Tone piano owned by a friend. You can see what one looked like here (though the intriguing quarter-tone keyboard music of Scott Crothers here is not being played on this particular instrument).
And here is a video of an acoustic quarter-tone piano being played:
Or is it that you don't like the constraint of fixed tones at all? Your answer could be the unique Fluid Piano. Make your own pitches!
Do you dislike the hard texture of your piano's keys? Then you need a piano with spongy keys, like the new Seaboard instrument:
You find sharps difficult to manage? Maybe a piano without any black keys would help:
Do you have short arms, and find the ends of the piano keyboard too much of a stretch? How about this curved keyboard shown in Alfred Dolge's 1911 book
Pianos and their Makers
: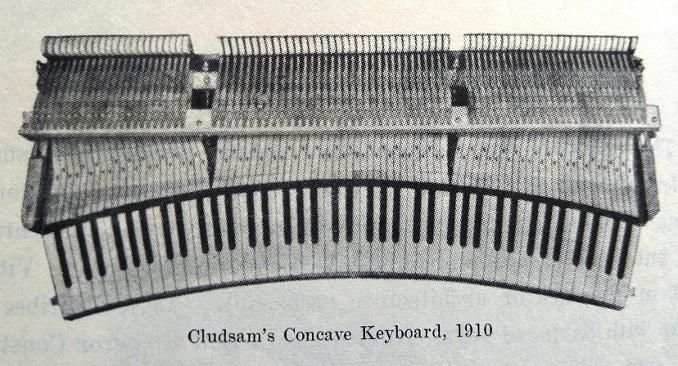 You can now buy such a piano, thanks to piano builder Chris Maene of Belgium!
Or perhaps you are left-handed, and you dislike the predominance of the right hand in pianos and sheet music? How about a Left-Handed Piano. which has the treble notes at the left, going towards the bass at the right? Here's a Beethoven sonata on such a piano:
Are you really struggling to learn? Get some technique tips here, but remember to be less possessive than Nora is at the start:
Norah has her own Catcerto now!
If you are allergic to cats, I guess Nora won't be for you. How about this impressive doggy pitch recognition:
If you are fitness-conscious and sitting at a conventional piano to play Bach is too sedentary, this might suit you better:
Or if you want to play without touching the keyboard at all, you could try this method:
When, after all your best efforts, you find that you just cannot get to grips with the piano at all, this may be your only remaining option:
And then you can start again on another instrument, and rattle off your Bach like this:
Why settle for the pianormal folks? Don't be pianordinary! Get yourself one of the pianamazing instruments featured above!
Although I have called this page Pianoddities, most of the developments featured represent the thoughtful endeavours of dedicated individuals with a keen interest in exploring and expanding the potential of the piano. Respect! (And total respect for Adam Fulara's virtuosic Bach, above).
Finally, have a look at another approach to making musical instruments. You will cry.....

All parts and contents of this website are the intellectual property of David Boyce unless otherwise indicated, and may not be copied without permission.