Piano Tuner in Inverclyde, Renfrewshire, Glasgow, the west of Scotland and beyond.
10 Chopin Waltz in E maj (2).mp3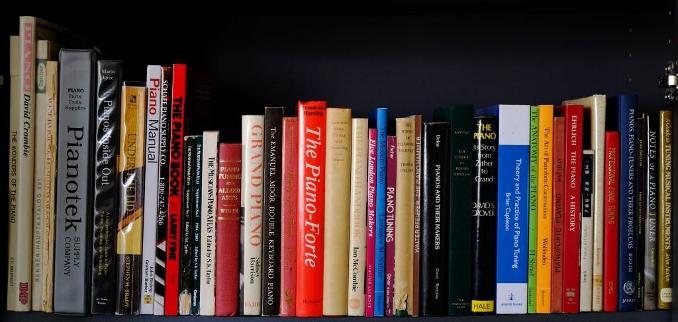 This page is about books covering history and development of the piano and other general piano information, as distinct from works on tuning and repair, reviewed on the Technical Books page.
Some books have links to Amazon. As an Amazon Associate I earn from any qualifying purchases made via these links.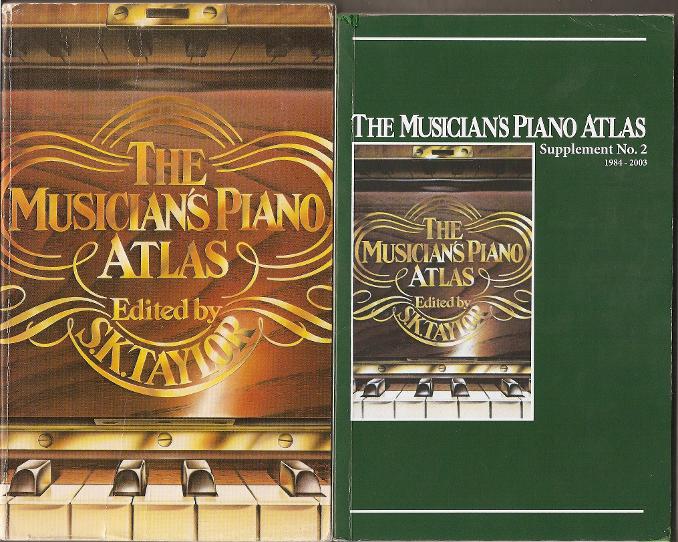 All parts and contents of this website are the intellectual property of David Boyce unless otherwise indicated, and may not be copied without permission.
The Musicians Piano Atlas (with Supplements 1 & 2) S.K. Taylor, Ed. Omicron Publishing
There seems to be a mystique about piano serial numbers - people have the idea that manufacturers must record their serial numbers in a book. Not so at all!
By labours of love, individuals in the UK, the USA and Europe have collated information from manufacturers to compile lists of serial numbers with years of manufacture into a book. By a gentleman's agreement, The Musicians Piano Atlas above, omits USA makers except Steinway. Reciprocally the US Pierce's Piano Atlas focuses on American makers but not English-made pianos.
These are specialist publications, and some information can nowadays be found online. Piano serial number books cover the main makers and some smaller ones, but many small makers have long since disappeared leaving no records.
The Musician's Piano Atlas and the two Supplements do not seem to be in print currently (December 2022) but you may be able to find second-hand copies online..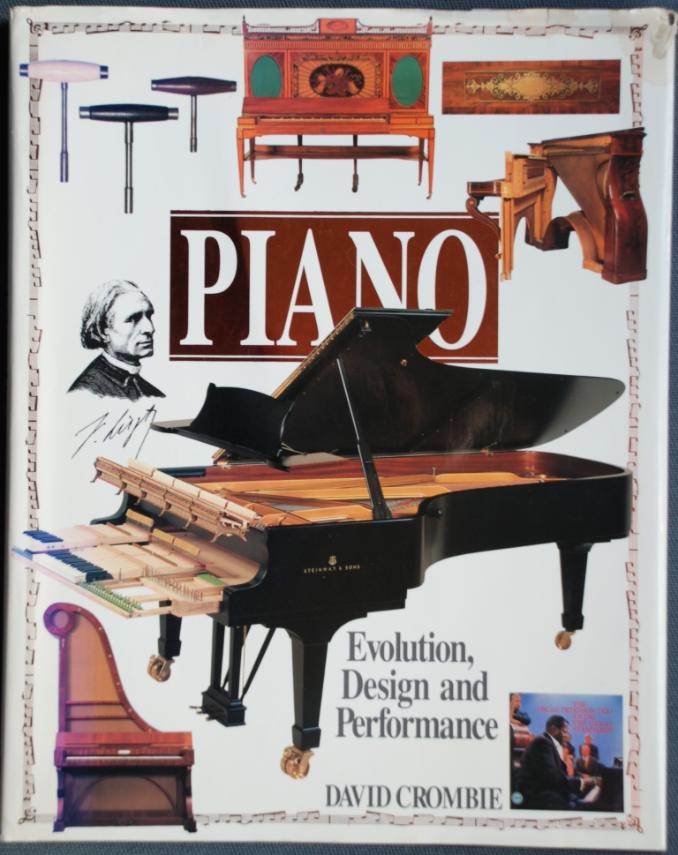 Piano Evolution Design and Performance David Crombie, Balafon 1995
This is a gorgeous book, beautifully illustrated. It's a pictorial history of the piano, and the author has sourced (or taken) photographs of every conceivable unusual instrument that occurred along the way. There are excellent exploded diagrams showing how things work, and a section giving a short history of and comments on all the main makers. The page size is large - 32cm x 25cm so there is room to reproduce photos very nicely. There are also some fold-out pages which do justice to large-size reproductions. I am showing some pages below for the purpose of this review (as permitted by the Copyright, Designs and Patents Act 1988 ). Sadly it seems to be out of print now, so you'll have to source a secondhand copy. Also check out David Crombie's excellent World Piano News website. There is an iBooks version now available.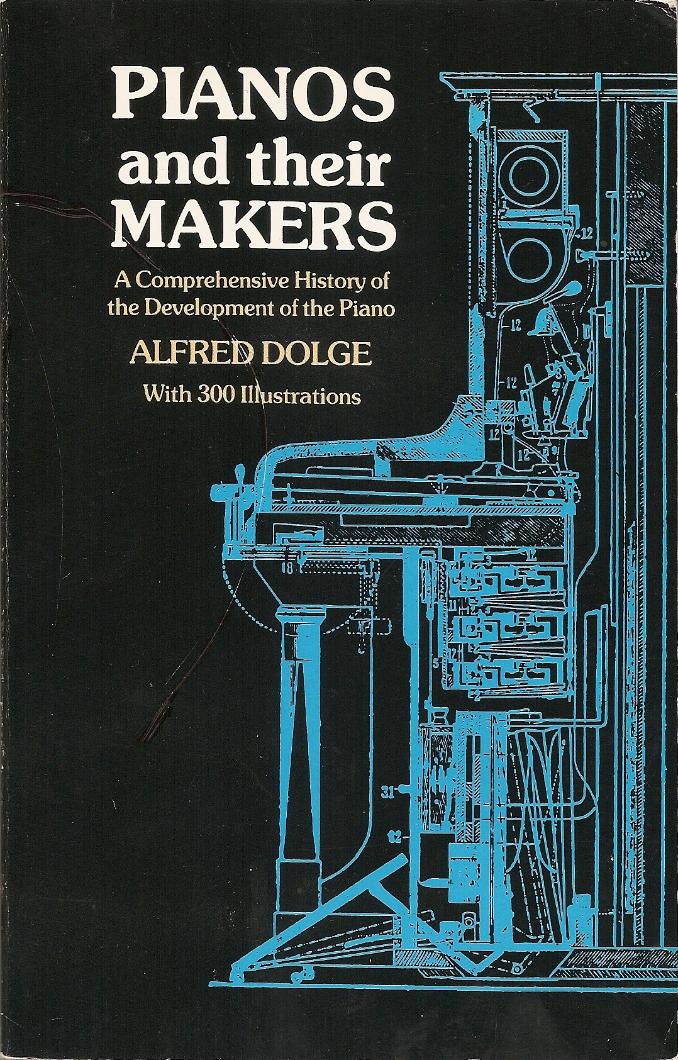 Pianos and their Makers Alfred Dolge 1911 republished in facsimile by Dover Books 1972
An important historical text written by a leading figure in the American piano industry at its peak - the same era in which piano making in the UK and Europe reached its zenith. It's loaded with information about the development of well-known makes and the people behind them. I think only the paperback edition is available now, and an online PDF version.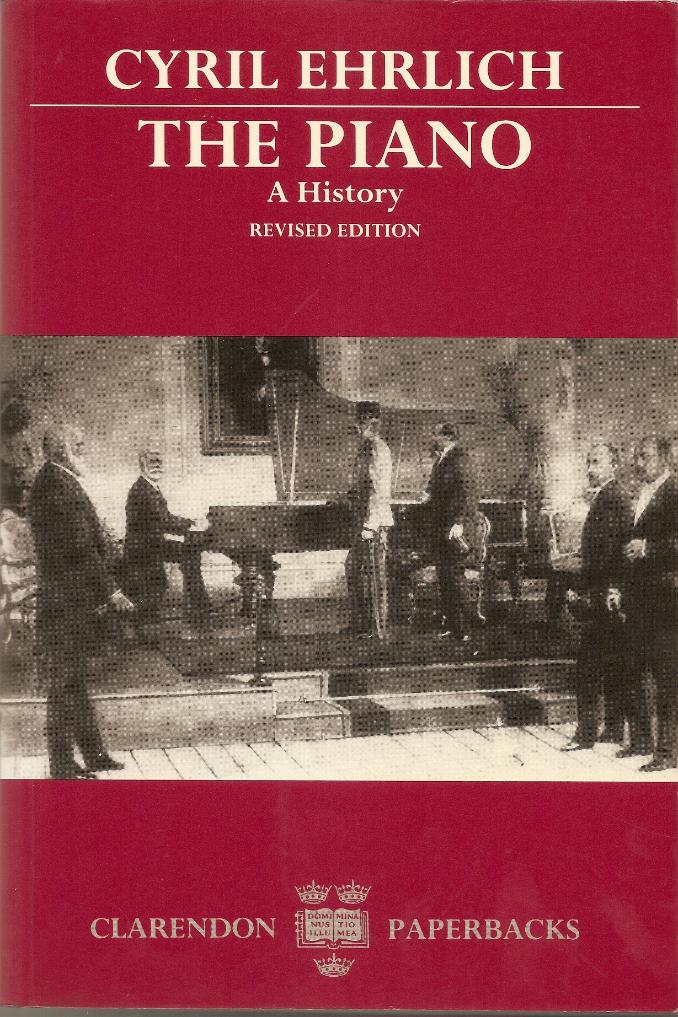 The Piano A History Cyril Ehrich Clarendon Press
A thoroughly scholarly but accessible work. It has been suggested that the piano industry is a sort of microcosm representation of the rest of industry in Western Europe and the USA, so that the tale of its rise and fall illuminates the story of western industry in general. For further detail on this book I can't do better than quote the Amazon blurb:
For more than a century the piano occupied a dominant place in music and society. Professor Ehrlich follows its fascinating history from the fortepiano of Mozart's time, through the Victorians' `household orchestra and god', to the most sophisticated modern products of the Japanese manufacturers. His protagonists include barnstorming virtuosi, fashionable ladies and aspiring clerks, the great makers and the back-street `garrett-masters', distinguished musicians, and hire-purchase touts. Originally published in 1976 by Dent, this book has now been updated and revised by the author in the light of developments of recent years.
NOTE: The Moiré pattern on the cover photograph is an artefact of scanning the book cover. This can been seen also on some other photos in the Books pages. It's an interference pattern between the original printing process and my scanner.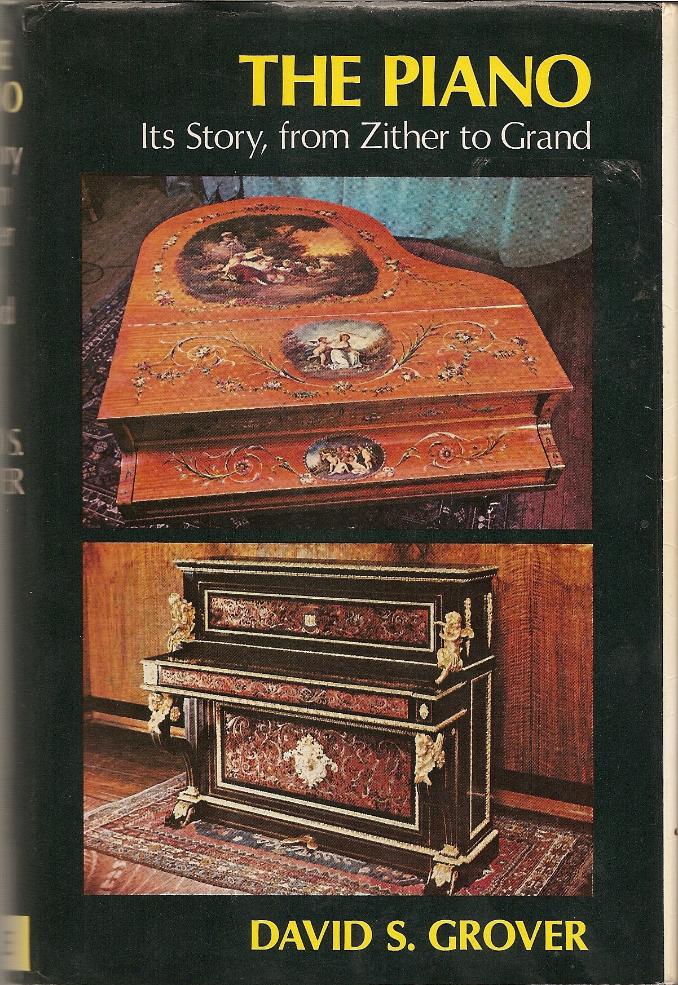 The Piano, Its Story from Zither to Grand David Grover, Hale, date?
An informative and interesting work by David Grover, whose family owned the Bentley piano company. There are several sections of black and white photo plates on high quality coated paper. Out of print.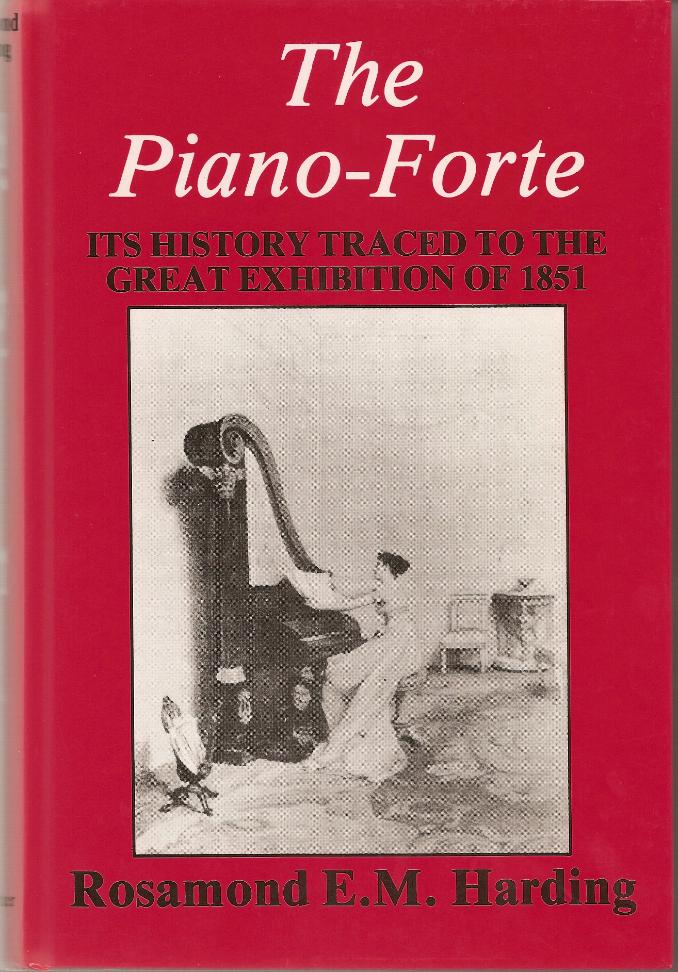 The Piano-Forte Its History Traced to the Great Exhibition of 1851 Rosamund Harding 1933/1978 Heckschers
OK, well, as you might expect from the title, this solid tome is not a light entertaining read! This is a scholarly work, originally published in 1933 and revised in 1978. It has lots of good diagrams of early piano actions. By 1851 the piano was essentially what we have today, and this work traces the development of the instrument to that point. It might be noted mind you that Carl Bechstein, Julius Bluthner and Henry Steinway, three of the most influential piano makers in history, all started their businesses two years later, in 1853.
Currently out of print, it seems.
The Modern Piano Laurence Nalder 1927, republished by Heckschers 1989
Not that modern - first published in 1927. But by then piano design had stabilised into what we have now, although today's pianos may employ some new materials. Good drawings showing the development of the modern piano actions through older types. Available from Martin Heckscher.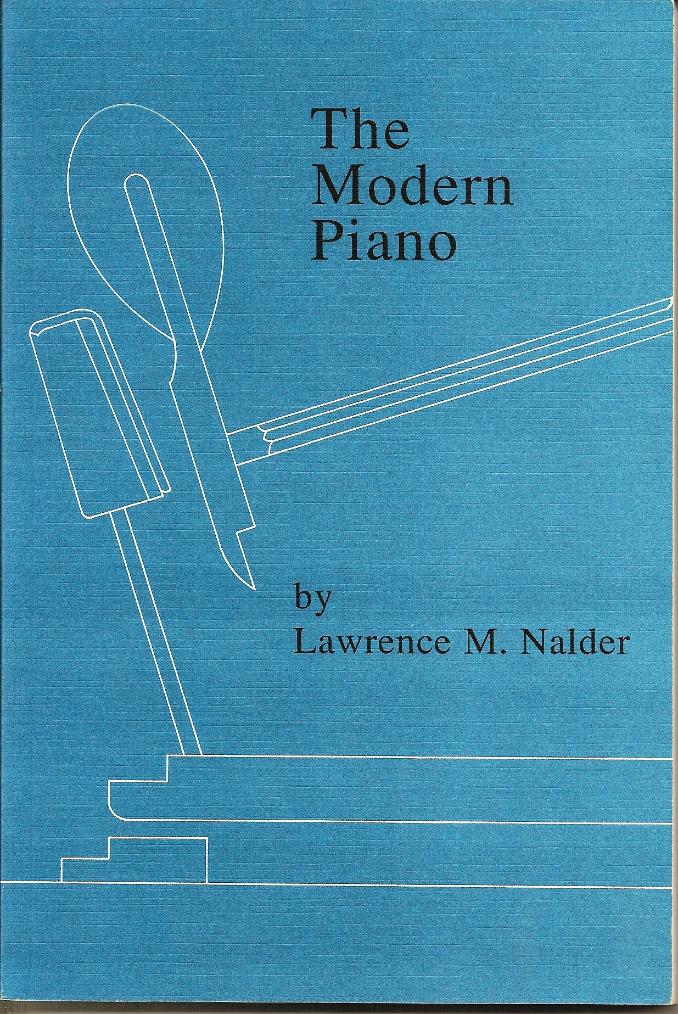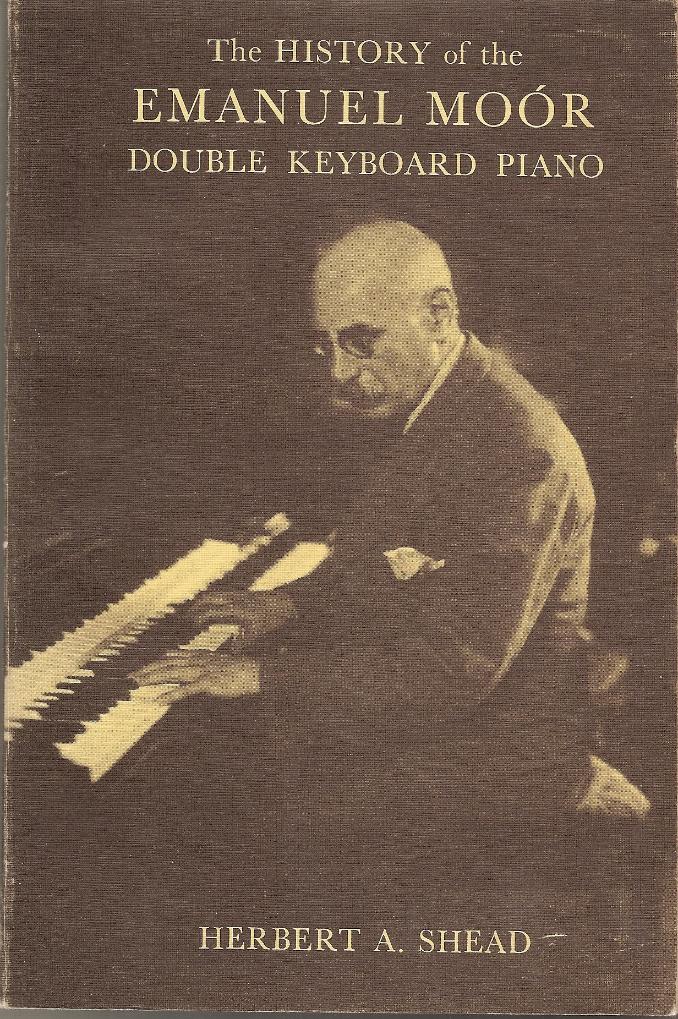 The History of the Emanuel Moór Double Keyboard Piano Herbert Shead Unwin 1978
Well folks, if you want a book about the extraordinary double-keyboard Moór pianos, this has to be it! It's the only book about these pianos, as far as I know. And it's out of print. Several piano makers had a go at making Moór double-keyboard pianos. Steinway only ever made one, which has been restored and you can see a Youtube clip of it on my Pianoddities page. Pleyel and Bechstein made 22 and 19 Moór pianos respectively and Bosendorfer made 10. The book contains a fold-out technical drawing of a Bechstein Moór action, and it's frankly a bit mind-boggling. Pity the poor technician who had to look after these!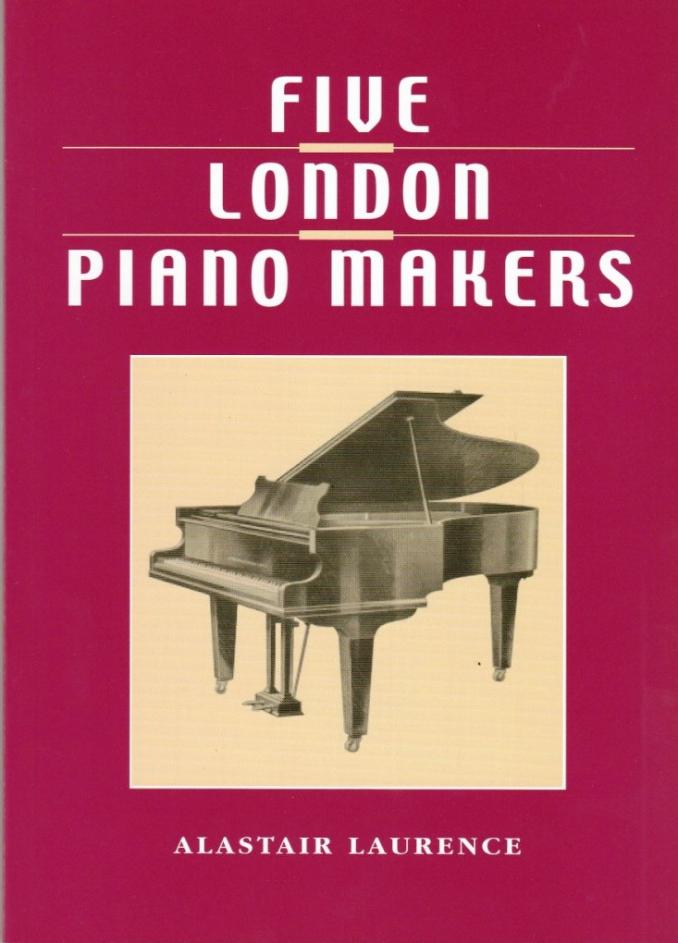 Five London Piano Makers Alastair Laurence Keyword Press 2010 reprinted 2012

Dr Laurence is a 6th-generation piano maker, whose family connections go back to the start of the UK piano industry. In this very interesting 136-page book he traces the history and eventual demise of piano manufacturers Brinsmead, Challen, Collard, Danemann and Welmar. The personal connections of Dr Laurence (whom I met a few times in the 1980s at technical events) and his deep involvement in the English piano industry, mean that he has a wealth of personal experience and stored anecdotes, as well as documentation, to draw on. The writing is therefore not dry and statistical, but lively and at times wistful. This is a most commendable book. Dr. Laurence has written other piano books, which I will cover separately.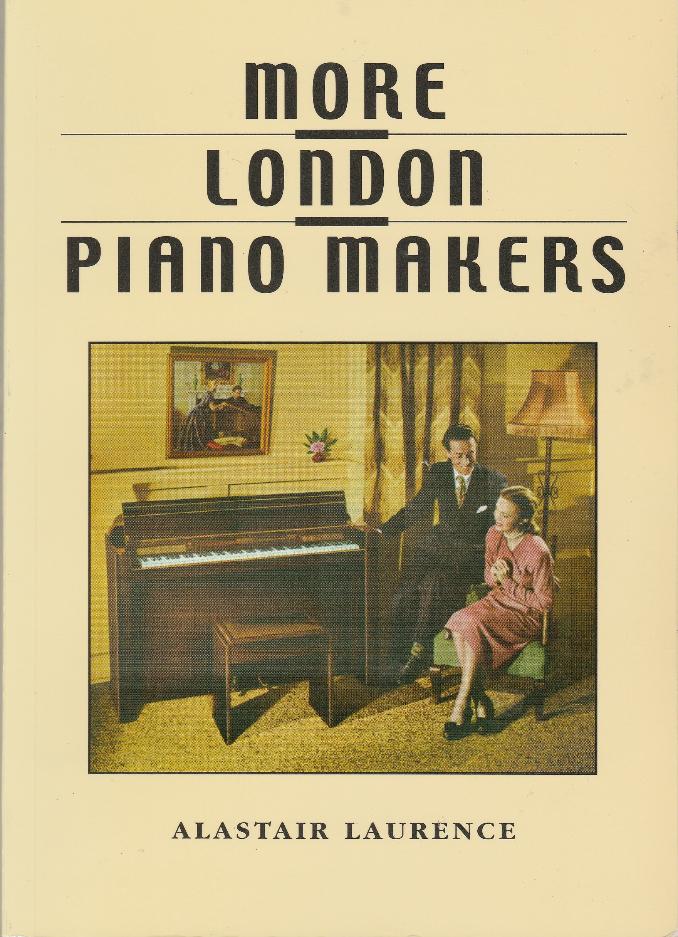 This companion volume to Five London Piano Makers covers the history of piano makers Eavestaff, Rogers, Squire, Knight, Chappell and Hopkinson. Like the first volume, it is full of anecdote and archive material that cannot be found elsewhere. The two books together give a vivid picture of the beginnings, rise, success, then decline and demise, of an entire British industry sector.
All contents of this website are the intellectual property of David Boyce except where otherwise indicated, and may not be reproduced without permission.
© David Boyce 2021