Piano Tuner in Inverclyde, Renfrewshire, Glasgow, the west of Scotland and beyond.
Schubert Sonata in A Major Andante.mp3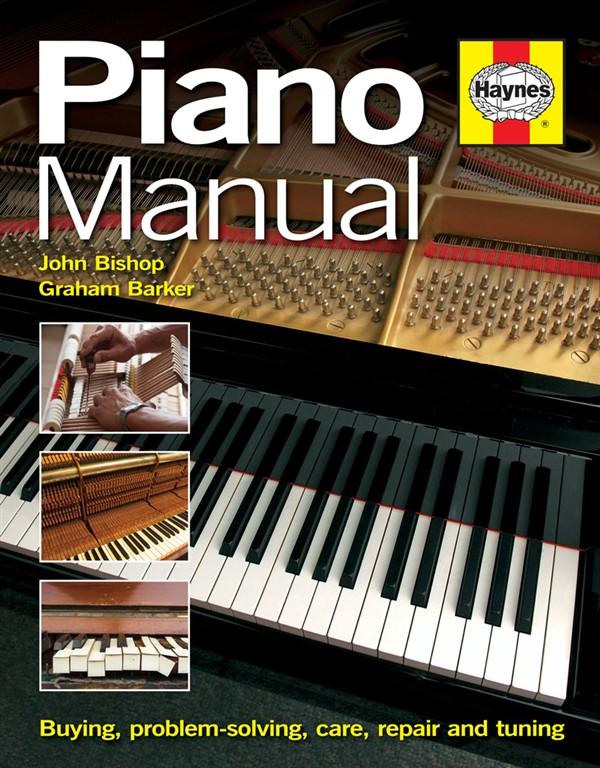 Haynes Piano Manual
I think this book merits a page of its own here! It represents a very interesting and satisfactory approach to producing a technical book about the piano.
The market for piano technical books has always been a small, "niche" market. This creates challenges for publishing. Publishers are in business, of course, to make a profit, and they way they make a profit on any given title, is by selling a lot of copies But a book will only sell a lot of copies if it has popular appeal for a large potential market.
Piano repair books have not been in that category. Since they haven't been produced in large enough numbers to make for 'economy of scale', it hasn't hitherto been possible for piano books to be lavishly illustrated in colour. Reblitz's excellent technical text, for example, so good for students of piano technology, is black and white throughout. Black and white photos are OK, but it can be hard to see parts very clearly when everything is in shades of grey, whereas red and green felt parts on light wood stand out clearly in colour photos.
The great thing here is that Haynes Manuals are aimed at a broader market. By writing a book that will be useful for all piano owners, as well as those with a distinct and deeper technical interest, it's been possible to produce a work in full colour throughout. This is a tremendous boon!
Many of us are familiar with the Haynes Manuals, having bought them for cars we owned. They are very thorough. For most, there is more information than would be needed. I was never going to pull an engine out and strip down the gearbox; but even finding out how to remove a piece of trim to access some component, would often justify the cost of the manual.
In recent years, Haynes have branched out into other technical manuals, covering household appliances such as washing machines. And now, the Piano Manual!
John Bishop is a piano technician of some 30 years experience and also has a background as a University Lecturer (in an unrelated field). He and his writing colleague Graham Barker have produced a work that is copiously illustrated with colour photos, and is accessibly and humorously written.
There are different methods for carrying out many piano tasks, and not everyone will do things in exactly the same ways as described in this book. But that's fine. This is a genuinely useful Manual which I think should be in the hands of anyone who is at all interested in the workings of his or her piano. It would be especially good for piano students.
Just as with the Haynes car Manuals, many tasks are described that most readers won't be intending to tackle, but the book is very much worth having for general background information. And it may embolden the reader to carry out some simple piano task, like fixing a loose grand piano pedal trap-work, successfully.
There is an unfortunate error in the labelling of some parts in a photo of the upright piano action, due to a proofreading oversight, and this will presumably be corrected in future print runs. A corrected version is available in this Blog about the manual. John Bishop's website is at http://www.getintune.co.uk/
The scans reproduced here are included for review purposes, under the Fair Dealing provisions of the Copyright Designs and Patents Act 1988.